---
Whats new in version 6.0?
---
Add auto-detect compilers to the one we support, codelite now successfully detects and defines the following compilers:

MinGW (mingw64, TDM-GCC both 32 and 64 bits, MinGW for CodeBlocks and plain install under the volume drive)
Visual C++ (VC)10,11 and 12
Clang (Linux, OSX and Windows)
GCC (Linux, OSX) under OSX, Xcode custom installation is also searched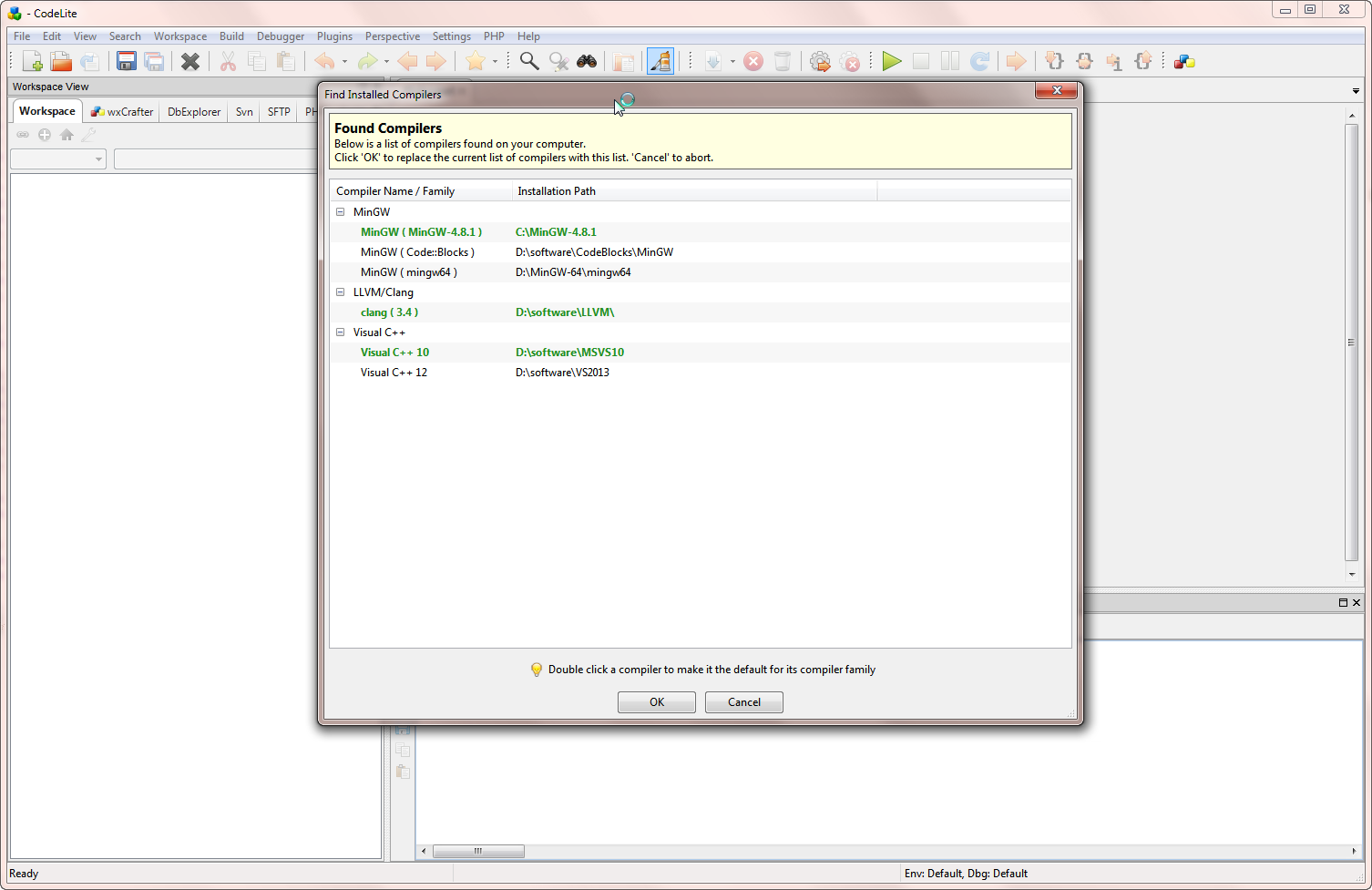 Code completion: extract the search paths from the project settings
NEW LLDB debugger plugin, CodeLite is now the first open source IDE that supports debugging with LLDB on Linux/OSX and even remote debugging from a Windows machine using LLDB on the target machine. A detailed documentation on the LLDB debugger plugin can be found here
Allow editor to be detached and place it in its own wxFrame with toolbar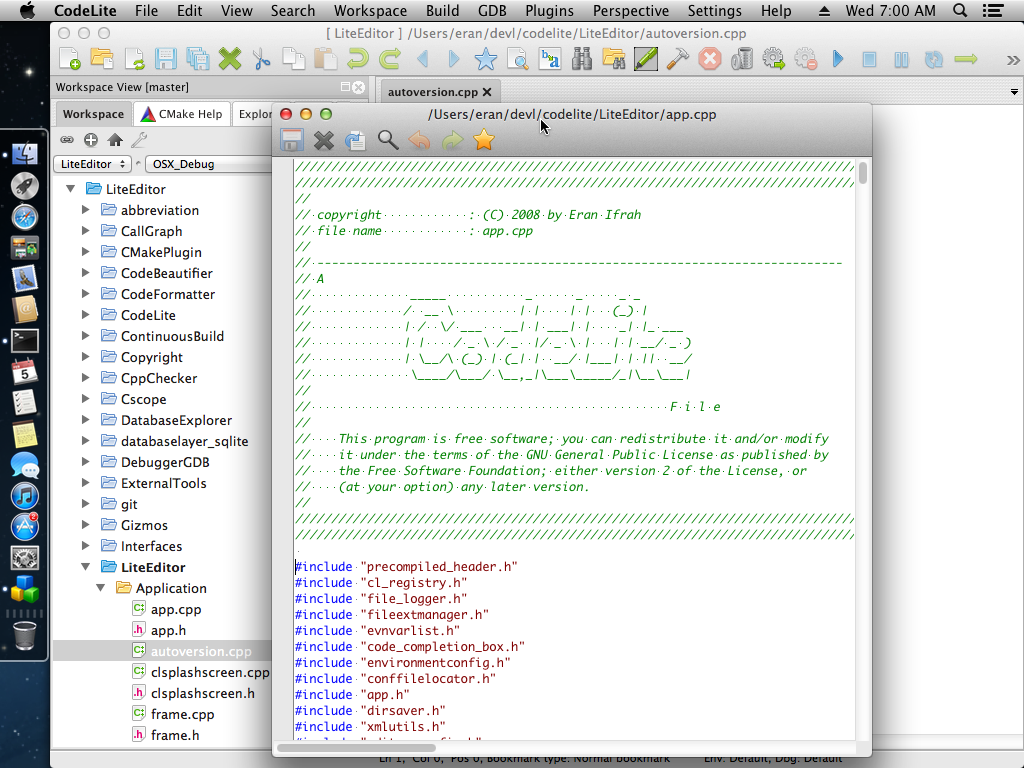 Build Settings - the New compiler functionality now allows the user to create a compiler based on an existing compiler settings
Added support for Search In Open files (frankivo)
Minor UI updates to the 'Workspace Tab'
Auto generating of function which includes the enum keyword should work properly

void foo(wxString &s, enum BreakpointType bpType);

Refactor the Project Settings dialog (re-write its UI to use wxPropertyGrid) - done
OSX usability issues ( better alignment for the code completion windows, Find-In-Files crash fix and other minor issues )
Add Wildcard option to the 'Find Bar'
Update the CppChecker plugin to 1.63
Added a new project template that loads a frame from XRC
Built-In Diff utility based on the DTL library. The diff utility is now the default diff viewer for Git and Subversion plugin in addition, there there is a new plugin CodeLiteDiff which open a clean diff view where the user can select files for comparison
Here is a screenshot of the diff viewer in a classical 2 vertical panes:
And in a one pane view: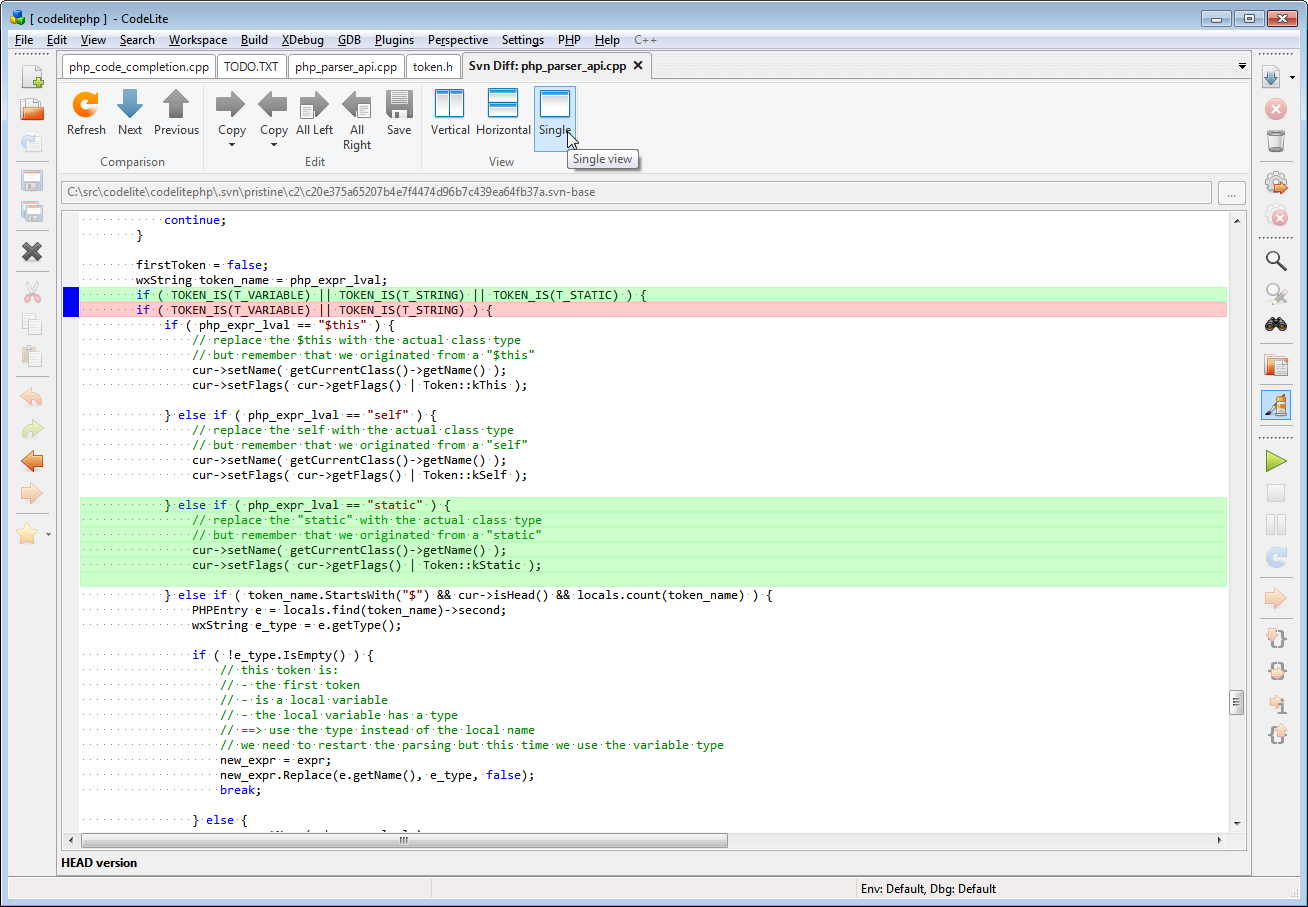 Add support for CMake "compile_commands.json" file - this file is generated by CMake to provide easy code completion by Clang
Added new CMake template
Move Git / Svn settings to reside inside the .codelite folder under the workspace folder (atm, they are kept globally)
Make it possible to Undo or Redo multiple changes at once. The Undo and Redo tools (except in OSX with a native toolbar) now have dropdown menus.